Brosnan Mobile Command Center™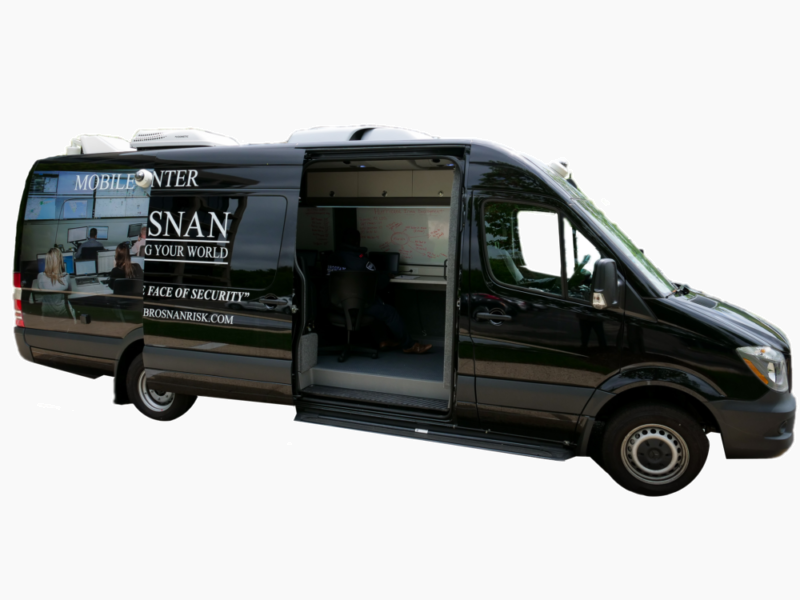 Fraud, Safety, Theft, Violence
Zone 1, Zone 2, Zone 3, Zone 4, Zone 5
A central element of this mobile command, control, communication and coordination business hub is the provision of situational awareness to security professionals nationally and globally.
The Brosnan Mobile Command Center™ technicians collect, analyze and disseminate data from numerous sources to our security officers in the field. The swift dissemination of actionable intelligence enables the security officers to make smarter decisions, and to make those decisions faster.
The on-site validation and fusion of intelligence is vital to affirming its accuracy. Multiple overt IP cameras are mounted on the vehicle to deter criminal behavior, view and capture field operations, and coordinate field response. Images can be viewed in real time in the Brosnan Command Center® and can be archived as per client instructions.
The Brosnan Mobile Command Center™ federates with all SaaS based dashboards, portals and proprietary resources utilized in their National Command Center, ensuring seamless capture of data in the field. The Brosnan Mobile Command Center™ has a functional conference area to host coordination meetings for effective critical incident management.