Intrusion Detection and Perimeter Protection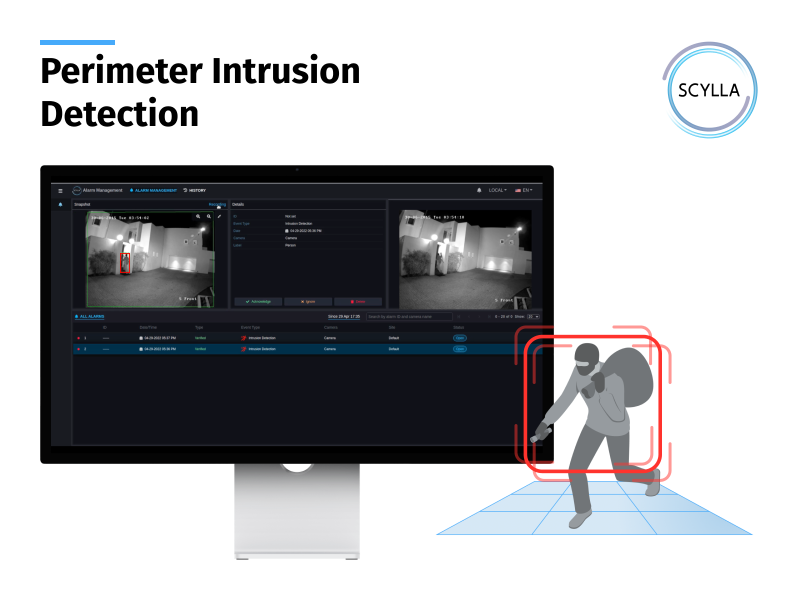 Scylla Intrusion Detection and Perimeter Protection is a high-precision AI surveillance technology that fits businesses that need to monitor a large number of cameras and areas with heavy footfall. Supported activities include: detecting humans and vehicles in restricted areas, false alarm filtering (minimizing false alarms by up to 99.95%), and parking area violation detection for vehicles and two-wheelers.
Scylla AI video analytics detects persons or vehicles in a specific zone at a specified time and can be seamlessly integrated with your existing security infrastructure, connect to cameras directly and monitor the area real-time 24/7. Alternatively, it can also receive the frames that were detected by the embedded motion detection function, filter those that have a human/vehicle and distribute relevant alerts in case of a detection. Scylla can track individuals while they are in the view of the camera, run real-time vehicles or people counting at your premises, and report cases of loitering and running in the areas of interest.
Scylla AI features a flexible alerting system through the web dashboard and mobile application, and can be deployed on cloud, on edge, and on-premises (cloud implementation does not need any additional hardware). Scylla can also utilize face recognition technology to identify the intruder.